Germany's Nuclear Energy Phase-Out, Explained - NEW BLOG!
Eric,
On April 15, 2023 utilities in Germany shut down the country's three last remaining nuclear power plants. These closures mark the successful planned phase-out of German nuclear energy from the nation's grid.  
Our latest blog explores Germany's Energiewende ("energy transition"), the overarching policy commitment to achieve a low-carbon, nuclear-free economy and transition to renewable energy. The recently completed phase-out of nuclear power is a major milestone for Germany's energy transition.  
It is a success story. 
Germany's energy transition has, so far, resulted in a massive build-out of renewable energy and significant reductions in emissions. Germany's transition shows that an energy policy grounded in environmental values works – and the earlier climate policy is implemented, the sooner the climate policy goals can be realized. Above all, the German energy transition shows the tremendous power of active citizenry, organized social movements, and activism to transform policy and successfully demand change.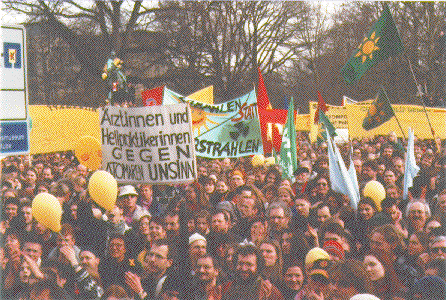 Thank you for all you do!  
The NIRS Team
Diane D'Arrigo
Denise Jakobsberg
Tim Judson
Quinn McCann
Hannah Smay